I became interested in art and design at an early age. Here are some examples of the artwork that I have created over the years. The portrait of Pablo Picasso was my first serious attempt at realism, and was done in 1980 when I was a senior in High School.
The framed John Wayne portrait and the Jerry Garcia portrait are wood-burnings on pine. I hand pick the pine boards to wood-burn. I got lucky when looking for the wood for John Wayne and found a piece with a cool looking knot. I was able to cut the board to place the knot in the Duke's hat.
I like to use pencil, charcoal, oil paint, acrylic paint, wood-burning, and airbrush.
Recently I have started creating mixed media abstract paintings, and will be posting photos of them soon.
Although the art shown here has been sold, you can purchase my original artwork by commission. Please contact me for pricing.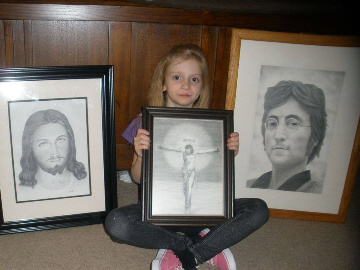 We have two granddaughters, Kaydence and Kamryn. This is our granddaughter Kaydence with three of my pencil drawings.